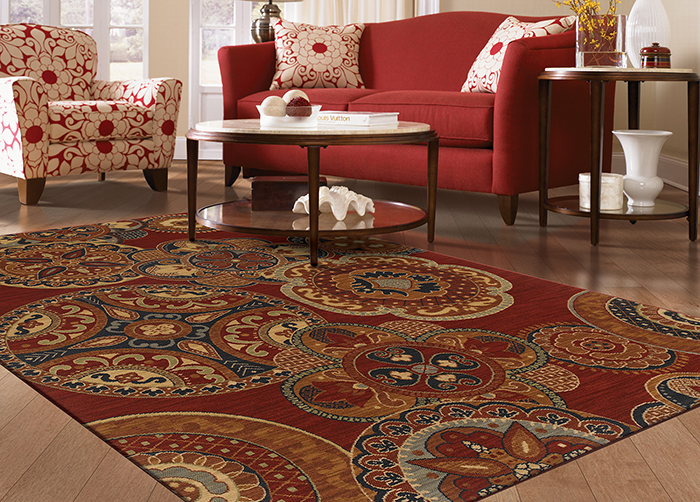 If you are looking for a powerful design statement to transform your space, there is no better place to start than an area rug. Area rugs provide comfort, warmth, and decorative interest to any space. They can act as artwork for the floor or can fade into the background. Not only are they easy to clean, but can easily be swapped out and replaced with something new. With a simple switch, any space can turn from traditional to modern, classic to contemporary, or bland to bold. However, the first issue to tackle is picking one out. Here are some tips for choosing an area rug.
Rug Color
Color is always a good place to start. No matter if you are completely redesigning a room or keeping your existing color scheme, you need to have a rug that will match. Think about the colors you like that you would be ok with looking at every day. Experiment with how different shades and tones work with your existing decor. For example, if you have a lot of color or pattern in your room, choose something that is more neutral or single color. If you are redoing a space, think about how different rug colors work with the tones of your flooring, walls, and ceiling. Rugs can stand out or blend in, so think about the effect you want when picking a color.
Rug Size
The most frequent mistake for area rug users is getting one that is too small. The best size is one that fits under all the ket furniture pieces in a room. If anything, you should be able to fit the front legs of big pieces, like couches and chairs, on the rug. All of the legs of smaller pieces, like tables, should be one the rug whenever possible. With a large room, you can use different rugs to divide conversation areas. Average sized rooms should have 10″-20″ of bare floor between the edge of the rug and the walls. The rug should be centered with the distance to the wall the same on all sides. No matter the size, for heavily trafficked areas there should always be enough room for people to walk on the rug.
Rug Styles
There an unending variety of styles for area rugs. Along with traditional Persian rugs or classic European styles, you can also find modern or contemporary alternatives. Details can range from bold florals, to strong geometric patterns, to simple styles. Before choosing a style, thing about the atmosphere you wan to create. A rug doesn't have to match everything in a room, but ti should work with the textures and tones of your existing decor. Area rugs are a like a piece of artwork, so don't be afraid to experiment with color and pattern. If you choose one with a bold pattern, place your furniture in places that won't completely cover the design.
Rug Maintenance
Before buying a rug, think about your lifestyle. Different tyes of rugs need different types of care, so consider where you will be using it and what kind of maintenance it will need before you go to the store. Medium to high pile rugs need more than an occasional vacuuming. They should be properly cleaned once a year to remove dust, hair, and allergens. On the other side, low pile and flatweave rugs simply need to be shaken out periodically.  Also think about what the rug is made of. Natural fibers can't be cleaned, so big spills can mean permanent damage, but they won't show minor dirt or stains. Keep the tags with any cleaning instructions and refer to it whenever it is time to clean your rug.
---
Whether it is an antique oriental rug, wall-to-wall carpeting, hardwood, laminate, or luxury vinyl, your floor should represent your own unique style and personality. Having high quality, affordable options allows you to build your dream room without breaking your budget. The experts at David Tiftickjian & Sons will help you find the ideal floor for your home or business.