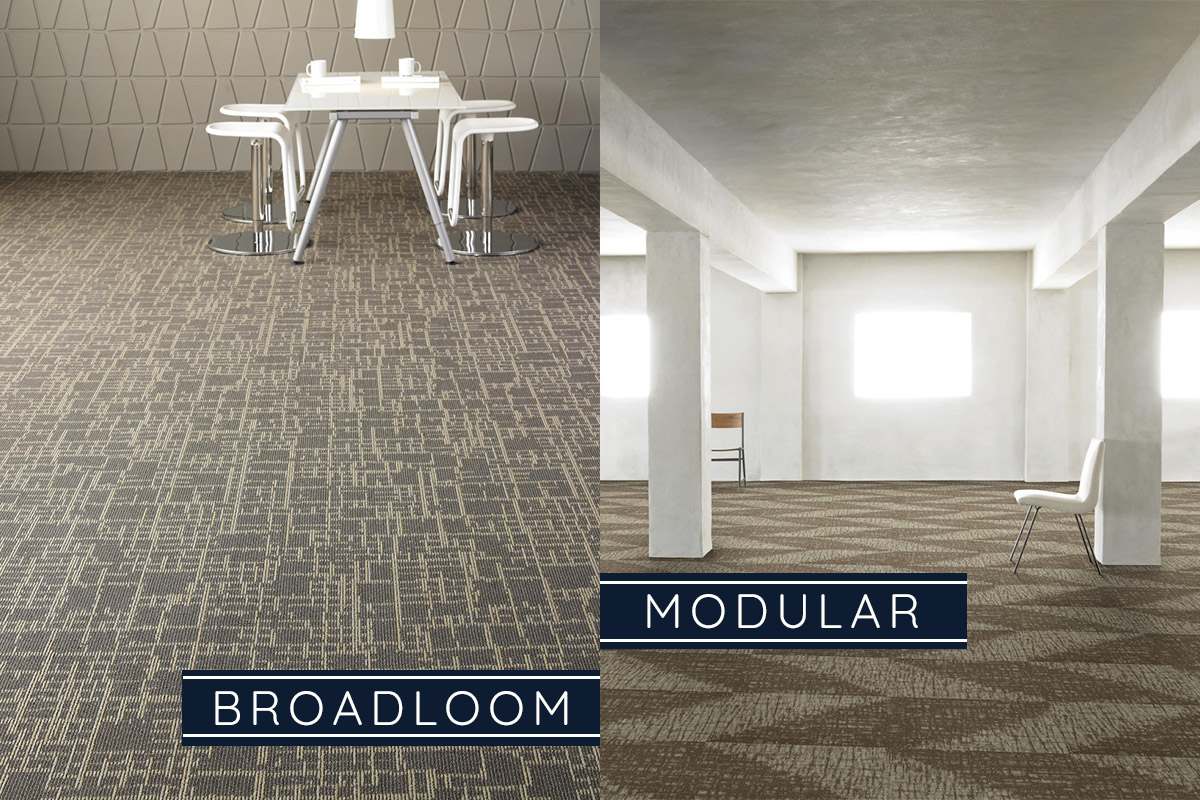 Every business owner understands the importance of curb appeal. When someone walks by your business, you want them to take notice, stop, and come inside! That's why property maintenance is so essential. Once they step inside, however, you want to hold their attention, not turn them off. You only get one chance for a first impression so make it count. A beautiful, carpeted floor adds beauty and value to any commercial space. It also has several advantages like dampening noise levels, reducing slips, saving energy, and more.
Commercial Carpeting Styles
There are two main carpeting styles to decorate your commercial space: broadloom and modular. Simply put, "broadloom" refers to a loom that is very wide, whereas modular carpeting is more commonly known as carpet tiles.
Appearance
Your floor should be as unique as your personality. That's why David Tiftickjian & Sons carries an extensive array of colors, textures, and designs. Both broadloom and modular carpets come in a variety of patterns and colors, giving you with endless options to create your dream aesthetic. However, broadloom has the advantage of looking seamless, which in turn makes your space appear larger. Modular carpet comes in smaller sections, giving you the freedom to create checkerboard or textured layouts, or to add spots of color scattered throughout your space. However, depending on your design, it is harder to hide seams in modular carpeting.
Installation
Broadloom is still the most commonly used option for wall-to-wall carpeting and is supplied in strips or rolls. Because broadloom is usually installed over a carpet pad, there is no need to correct imperfections in the subfloor. Modular carpeting, however, does not require a carpet pad as each piece comes with its own backing and is applied directly to the subfloor. This makes the installation process cheaper, easier, and faster, as long as the floor itself does not need to be corrected first.
Maintenance
When a broadloom carpeting needs repair, you have to cut and replace the entire strip. Because of its size, modular carpet tiles are much easier to store and replace. However, improper installation of carpet tiles can lead to curling or spreading.
---
At David Tiftickjian & Sons, we carry WNY's largest and most up-to-date selection of wall to wall carpeting. Once you've selected your style, we recommend professional installation by one of our professional installers. We employ only the BEST carpet installers/ technicians. Each of our installers has been trained and held to the strictest standards of courtesy and professionalism. WE DO NOT CUT CORNERS. We use a seam sealing technique unique to David Tiftickjian & Sons, as to make each seam as invisible as possible. We do every job to best our ability NO QUESTIONS ASKED!!!