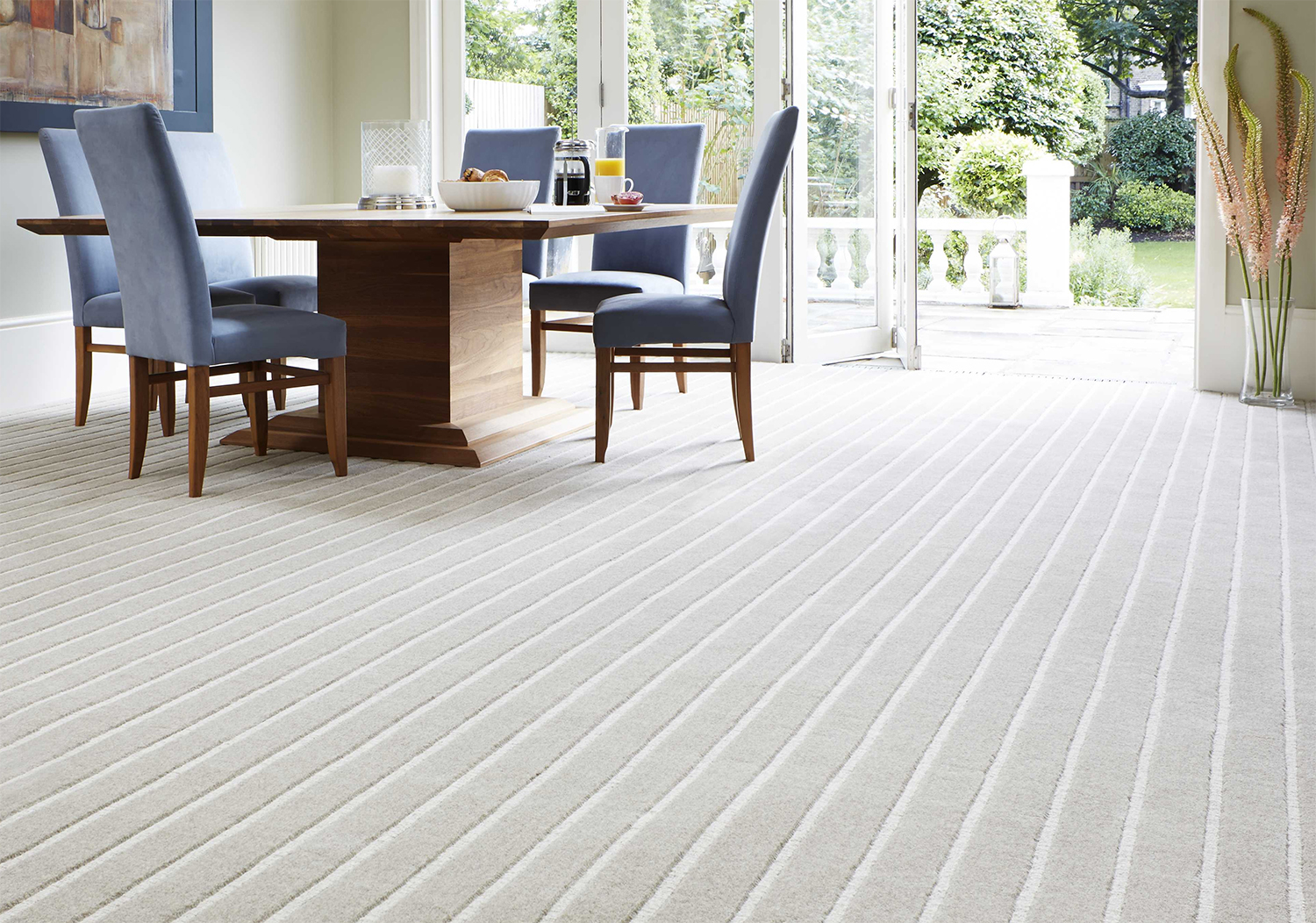 When renovating your space, it is important to think of what kind of flooring you want. When in need of an update, walls can be repainted, furniture can be switched around, but it is a lot harder to change your flooring. If you decided wall to wall carpeting was the way to go for your space, you have another thing to think about. What kind? There are two primary types of carpets you can choose from, broadloom carpets and standard carpet tiles. Broadloom is the traditional and still most popular choice of carpeting, and it comes with many design options, including patterns, colors, even mosaics — nearly limitless aesthetic possibilities. However, what is a broadloom and why is it such a popular choice?
What Is a Broadloom Carpet?
Historically, carpets were hand woven on looms. The term "broad loom" literally refers to a loom that is wider than the average loom size and is used to make a large carpet. When used for area carpeting, these carpets have the advantage of being installed without creating seams. Because they are woven on large looms, they can be made to a larger size, being able to be used as standalone rugs and carpets. Broadloom carpets also come in a variety of styles and designs. Today, many looms are operated with computer programs, which allow the designer to precisely program desired patterns and sizes. The computer also has the ability to dictate the height of the pile and any additional features.
How Is Broadloom Installed?
Broadloom is often sold for the purpose of being installed wall-to-wall.Broadloom is sold on rolls that are standard width. They are usually 12 feet wide, but can also be 15 feet or 13 feet 6 inches wide. When installed, they are laid on a carpet pad that sits on your floor. The crew will align large pieces together and cut some of them, to the correct size for your room. For rooms that are wider than the width of the roll, two or more pieces of broadloom will have to be seamed together. For rooms narrower than the width of the roll, the carpet will need to be cut down to the appropriate width. While doing so is not difficult, it usually means that the extra amount being cut off must still be purchased.
Broadloom carpet advantages
Broadloom carpets come with many design options, including patterns, colors, and even mosaics. The aesthetic possibilities are endless, meaning there is a broadloom carpet to match every space and style. Some high-quality broadloom also comes with a moisture backing that offers stain resistance. Certain broadloom with the right underlay material can be used to create a softer and plusher feel than carpet tile allows. Additionally, you will find that broadloom carpets are less expensive than carpet tiles.
---
Nothing brings a room to life like Wall-to-Wall Carpeting. At David Tiftickjian & Sons, we carry WNY's largest, and most updated selection of wall to wall carpeting.  Ask one of our family members or family trained experts to assist you in choosing the perfect carpet for your situation.